Bar and Beverage
Bartending in post lockdown hospitality
Members Joined:
94 Members Joined
Total Views:
3921 People Visited
The aim of this course is to provide candidates with the specialist skills and knowledge to work as a bartender in the beverage sector. This course is aimed at those working in an environment that serves and prepares a range of hot and cold beverages such as, bars, hotels and restaurants.
The course covers the full range of products used in making drinks and on completion of the course candidates will be able to prepare cocktails, select and use suitable types of glasses.
In addition, the course focuses on the importance of presenting a positive personal image, use of effective communication techniques and responsible service and regulatory framework connected to the sale of alcohol
Aims
Understand the essentials of bartending

Develop knowledge of range of beverages and service techniques

Demonstrate competence in use of equipment, garnishing & presentation

Work in safe and hygienic manner and be a professional member of team
Learning Outcomes
By the end of this module, students should be able to:
Select and use appropriate bar equipment

Prepare stores and areas for bar service

Prepare bar and deliver service correctly and in line with establishments procedures

Demonstrate cocktail making techniques

Work in a safe and hygienic manner

Acquire necessary key skills from preparation, set up, serving and clearing

Display knowledge of beers, wines and spirits service

Display knowledge of range of cocktails

Understand the importance of customer service and teamwork

Display knowledge of responsible serving of alcohol

Understand current legislation on the serving of alcohol

Understand the importance of opening /closing checklist 

Apply a range of serving methods

Demonstrate ability to use a variety of techniques

Demonstrate ability to pour and flair

Process orders and billing in a prompt and efficient manner

Use appropriate communication techniques with customers and team

Present a positive professional personal image

Demonstrate working practices in line with current health and safety regulations and codes of conduct

Understand health and safety regulations and other relevant regulations that apply on the job

Apply health and safety procedures relevant to the working environment

Demonstrate competency in putting into practice safe working practices in preventing hazards to people and equipment

Explain the current regulatory framework and relevant codes of conduct with regard to health and safety and the serving of alcohol

Ensure the application of the recent code of practice for outlets serving alcoholic beverages
This course is currently being produced.

Bartending Equipment and Tools

Making Cocktails and Key Ingredients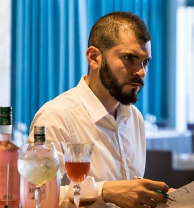 Panos Foteiadis is a passionate and renowned bartender. An experienced mixologist with international portfolio of work including; bartending, bars management and knowledgeable in restaurant service and food preparation.   A familiar face on the national cocktail competition scene and 3rd place winner, representing Malta, at the World Cocktail Championship in 2019.