Food and Beverage
Food and Beverage in post lockdown hospitality
Members Joined:
142 Members Joined
Total Views:
1528 People Visited
This programme offer participants indepth knowledge on the specialised techniques used in a range of service settings.
The purpose of such training is to improve employee skills and offer new employment opportunities to other employees. The training programme is aimed at employees currently working in F&B as well as employees involved in other sectors such as cleaning & housekeeping who wish to acquire service skills to transfer into F&B.

This course is currently being produced.

Food and Beverage Professional Standards and Operating Procedures

Food and Beverage Standards and Operating Procedures

Service Etiquettes, Styles and Set-Ups

Service Etiquettes, Style and Set-Ups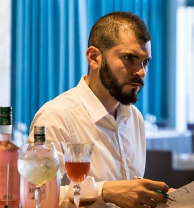 Panos Foteiadis is a passionate and renowned bartender. An experienced mixologist with international portfolio of work including; bartending, bars management and knowledgeable in restaurant service and food preparation.   A familiar face on the national cocktail competition scene and 3rd place winner, representing Malta, at the World Cocktail Championship in 2019.